The raft smashed sideways into the rock that was turning the current ninety degrees, and I felt a moment of concern as the upstream side lifted skyward while water came in over the lower pontoon. A frantic push with the paddle off the rock face though, got me clear and I rode the rest out, echo's of my companions concerns about the 10,000 dollars worth of rifles, cameras and gear sitting unlashed underneath me going through my mind, while my reply that, "who cares about possessions, this is adventure!" seemed a bit hollow now. The others, who had decided to bypass this section via riverbank, grinned and mimed "told you so." I drifted half a k downstream in reprisal before stopping to give them a lift.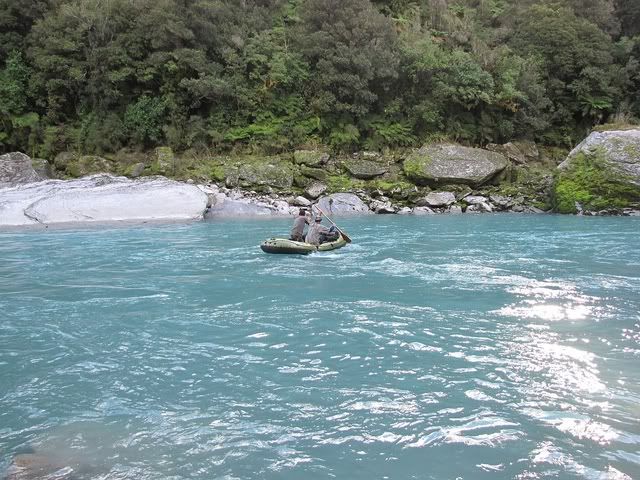 Thanks to Gryph and Breda for use of thier photos

.
The trip had formulated some months earlier when, in my common conversations with Breda, he had espoused a desire to hunt Tahr, I told him I was heading south for the roar, but if the stags weren't going, I intended to go walkabout along a piece of country I'd never visited which I thought might hold a few Bulls. He was keen even though I stressed it was more a looksee than hunt, and booked himself a place along with Gryphon, who was as eager as ever to have a crack at NZ game.
However the trip started unpromisingly. The plan was that I carry in a raft for the river, which entailed me having to walk a distance with the raft on one pack frame, then drop it and go back and get my pack and rifle and carry that forward and so on for the next 4 hrs.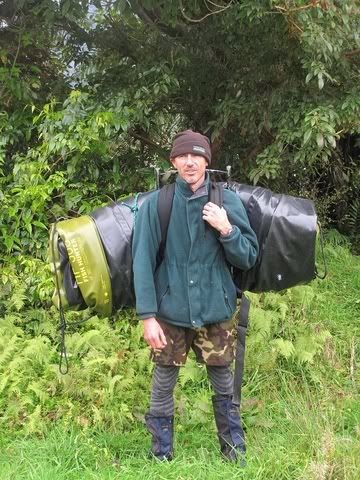 This was expected, but what wasn't, was the large group of hunters who had jetboated up and were camped right where we wanted to be. We headed on in further before finding a spot to launch from that wouldn't impinge on them. We inflated the raft, completed the trip downstream for the day, and set up the big basecamp tent for the trip.
We decided to leave the low country to the other crew, there was not much in the way of roaring going on anyway, and make a break for the tops while the forecast was good. A leisurely breakfast and we were away about 8.30 for the 850 meter climb to our intended camp.
What can I say about that climb??? Well heartbreak ridge rings a bell. Unseen gully's and little creek ravines, Supplejack and giggy, with no discernable ridgeline to lead the way, and every little terrace covered in Goblin forest of fallen trunks and swamp and moss and vines that would do the worst of Fiordland proud. Our going was tediously slow and energy sapping.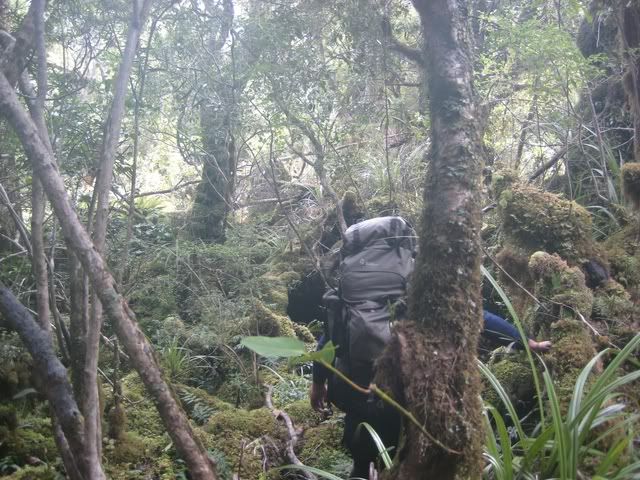 Finally at a little after six pm, with no sign of flat ground, water or an end, and with light rain starting to fall, we decided to quickly find a sleeping spot. A brackish pool of water allowed us to guzzle a litre or two, and fill our bottles, and while Breda and Gryph took a spell, I cast around and found a couple of small rock biv's that were reasonably sheltered. We made our way to them and set up for a feed and a sleep of the dead. It can get pretty depressing just slogging and climbing, not knowing when the task will end, especially when your guide has said it's a half day climb and your still way off at dark, but the guys stayed positive, and their needles still had a sense of humor.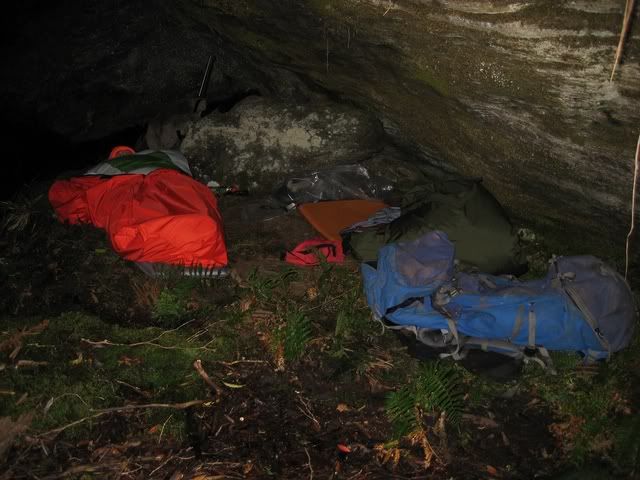 Morning came all too soon, and despite sleeping in piles of old deer poo, I think we all slept remarkably well. Our breakfast allotment of an OSM bar and a sip of water done, we carried on upward to break out next to our little piece of paradise around mid morning. The Dracophyllum forest here was amazing! I could imagine stepping back into the Cretaceous period whilst walking through it. We reached the little tarn that was to be our home, pressure was off now, and were greeted by hinds barking. It seemed our little spot was a favourite hidey-hole for a small mob of redskins. We crept around the small clearing for a while hoping for some camp meat, but they cleared out pretty quick.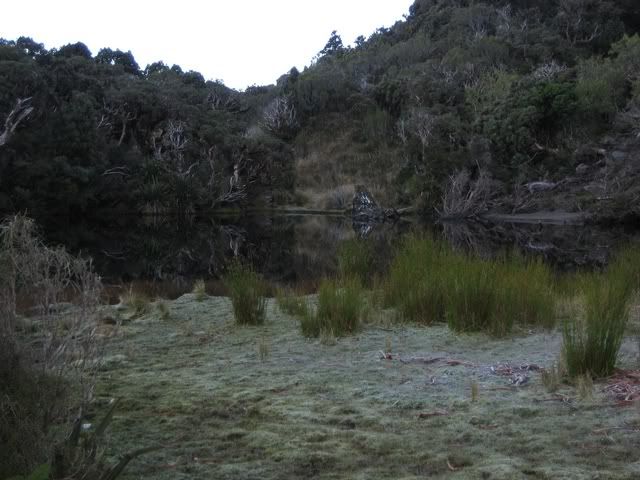 We still had 200 vertical meters of scrub to get through to the tussock. So after a light feed, Gryph and I decided to do some pathfinding while Breda set up camp and cooked the night's meal.
A reasonable route was broken to the tops by 3pm, hopefully one we could follow home in the dark. Finally we crept up over the ridge into the tussock proper and lay behind cover scanning ahead for 30 minutes. Soon, a large bodied bull walked into view a K away around the hill. This was my first serious pre-rut hunt for Tahr, and I was unsure as to how to gauge him, as his mane wasn't full, and he was a lot blacker than I was used to, still a few characteristic's mentally triggered the thought that he was worth a closer look, and we badly needed meat, so off we set. Shortly we were closing in and trying to decipher his position amid a jumble of house size rocks and small undulations.
Gryph loaded up a round, and slunk forward to get a view over the next small rise. Immediately he did so, he ducked back down, looked at me, which was enough to tell me all I needed, and I dropped and shed my pack while he crept forward again and took a rest for his rifle. My own gun in hand, I tensed, waiting for the shot, ready to spring around the hill if things hadn't gone to plan. BOOM/THWACK, and I sprung to my feet to see a bull roll on its side about 65 meters away.
We sidled on up, and found an old battler of a bull, 11-12 years in age and with only two front teeth left in his mouth. It looked like at some stage he had maybe taken a rifle or buckshot to a horn, as there was a chip and splinter from one side.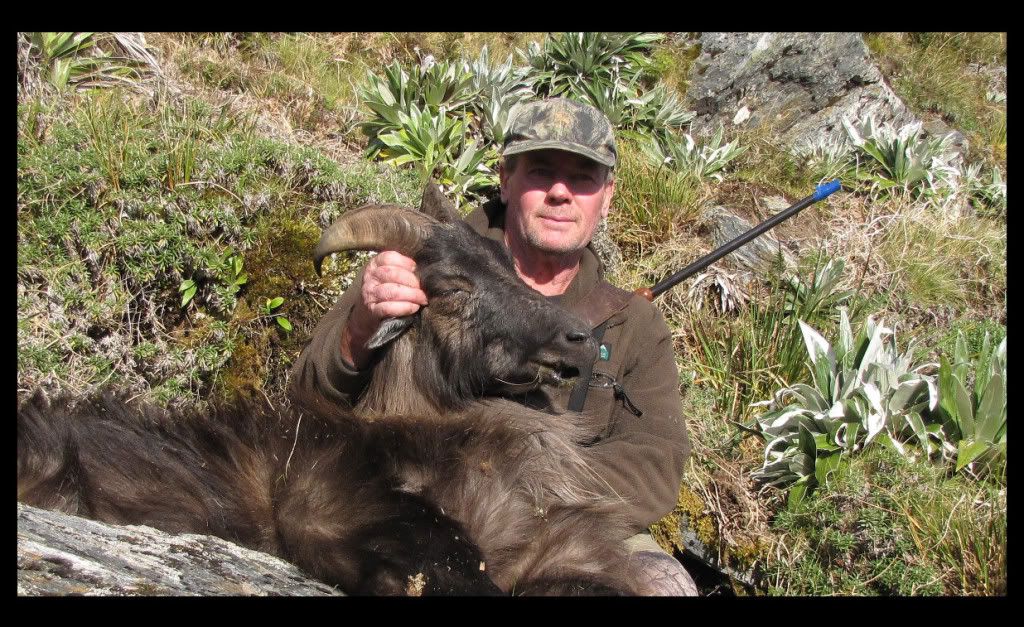 I congratulated Gryph on such a hard won trophy, and we set about removing the head and some meat for camp. With not much time left in the day, we decided to head home. On the way back, I looked down about 150 yards below us to see a bull run to the scrub edge and turn to look at us. Not much time to react, but what I saw was many growth rings, and I loaded up and took a lean on my knee and fired at a steeply quartering animal. I hit him hard and he leapt off the edge into the scrub.
Leaving Gryph to make his way home, I hurried my way down. A frustrating search turned up no blood or even an obvious path of travel, and 40 minutes of beating the bush turned up nothing. With dark approaching, I realized I had Gryph's torch and the GPS with me, so bailed because I didn't like the thought of having him stuck in steep scrub with nothing to help him get home. I caught him up half way down and trudged back to camp, elated for Gryph, but kicking myself for not anchoring my bull.
The plain hard work was getting to everyone, and next morning Gryph decided to stay at camp while Breda and I climbed the hill in search of game. We had all day, as I'm a firm believer in hunting Tahr on dark, so made our way casually up to pop out about mid morning. Soon a reddy-gold animal was spotted close to where the bull was last night, and a similar stalk soon had us in range of Breda's first Chamois buck, which he dispatched with aplomb. Back slaps and handshakes ensued, before we got down to processing and trophy removal. We now had more than enough meat to last, and after the last few days skimping, boy did we gorge.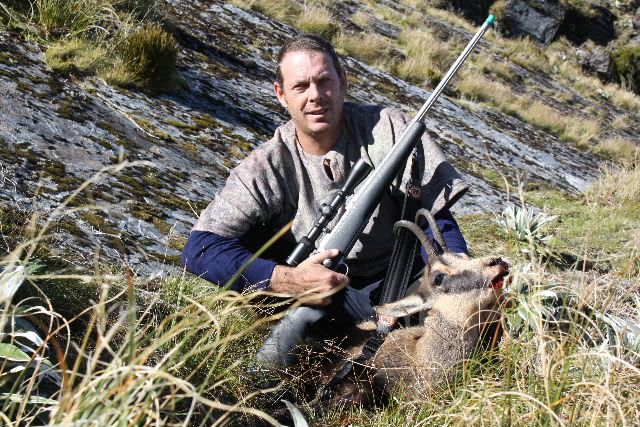 With the head and meat stowed, I lead the way around the hill, and got a shock when stepping over a small rise and nearly tripping on a bull Tahr! I took a moment to decide what to do, my initial reaction being to slam a round into the chamber and shoot him, but common sense prevailed and I dropped flat to the ground 10 paces from him and blocked my ears, which gave Breda a 15 meter shot over top of me. That bull never knew he died!
The Jammy bugger was now proud owner of both mountain game species, and this bull proved to be over 10 years old as well.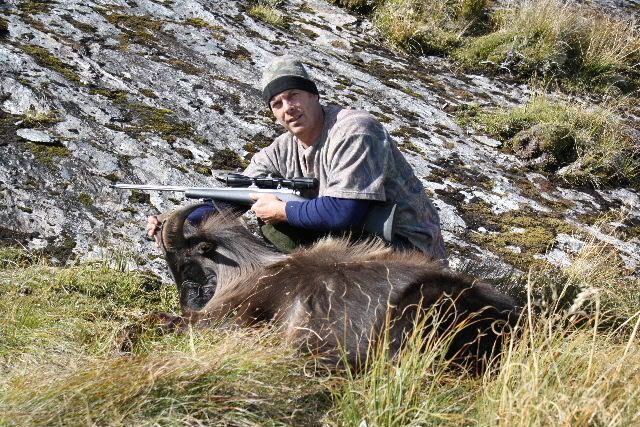 We spent the rest of the day exploring, seeing only a couple of Chamois at long range, but getting excited at the country we were looking into.
Finally we had to turn for home, and on return Breda spotted a Bull sky lined some Ks away. It looked promising and we headed its way, getting distracted by a couple of young Chamois bucks that weren't wise enough to know they should not hang around. Many pic's later, we let them go and wandered quietly within 200 meters of the bull's last position. He was gone, but I felt he wouldn't be far away, so we settled in and waited for dark, snoozing and glassing the hot hours away under the shade of some rock and scrub.
Finally the wait got too much for Breda, and he decided to check a high saddle. Hardly had he left, but a noise drew my attention to a gully 200 meters below me. Soon a Bull wandered into view. I lay watching him for a while, and thought there should have been some companions, but nothing showed. Finally it got too much for me, as he looked pretty good, and I thought he may be one of my better bulls if I succeeded in shooting him. I was actually running low on time, so ran down hill and around to come out 40 paces from him, raised my rifle, checked his horns to see he had enough age on him, thought, maybe he's a bit short in the tips, then decided he was worth it and shot him through the chest.
He spun and ran towards cover! I was franticly reloading and thinking, "Not again!" As he ran onto the ridge I raised my rifle, but he staggered and fell back right on the edge of a bluff! Man stressful! Luck has to go your way sometimes.
I recovered him, and took the head pleased with my decision as he was a dignified specimen of +10 years with a nice shape to his horns, and I wanted a nice head for something special I want to do. I felt pretty scungy though at leaving the body and skin behind, and made the decision then and there that I will probably never take a rifle after Tahr again, I don't really need to shoot another, yet love hunting them so its 'bow and arrow' from now on.
As I made my way back to Breda, I heard a BOOM/THUMP again, and soon he appeared with a tale of thinking I was lost and firing a shot to guide me home. I told him Bullshit, as I heard it hit an animal. He grinned and led me to another nice bull! At first he was a bit gutted, as it was relatively young, and he thought he'd made a mistake, but a quick measure soon showed it was a worthwhile trophy bigger than many which eased his disquiet.
We made our way down through the scrub, tired and stumbly, but rapt with the day and our hunting lust fully sated. The day was topped off by a Tahr stew of magnificent proportions that Gryph had ready for us when we wandered in.
The sustained effort over a number of days was taking its toll, and the weather was changing, we had all achieved results, and didn't particularly want to litter the hillsides with bodies, so while chatting that night, we decided to head down early, also we were well aware it may/maynot take us 2 days to get down, we just didn't know?
It nearly did, a couple of lucky route finds cut some time from the downhill journey, but it still took 7 desperate hours to come off that hill. We were buggered, but had a feast of bacon and onions, and Chamois backsteak, rolled and spiced and served medium rare. A great end too the trip only marred by the fact I was too buggered to walk out and back to retrieve the bourbons that sat in the car. There was still no sign of roaring stags, so next morning we loaded the boat and spent an enjoyable few hours rafting downstream, only having to portage a couple of times before reaching the road end and a welcome bourbon or two.
Cheers Guys for the effort and good humor and sense of adventure that made the trip go so well.