Hi all,
In March I was lucky enough to travel to your beautiful country and participate on my first ever wild boar hunt.
Due to heavy snow in the area, hunting from a post was the only viable option and at this time of the year only 1 year old pigs (the perfect eating size) can be taken. The hunting took place outside a small town in Sweden called Kisa and was about a 6.5 hour drive from Oslo.
We were instructed by the organiser, that if we shoot a pig to leave it lying there as there is a strong possibility that more will return, he wasn't wrong!
Click on the pictures for full size!
My accomodation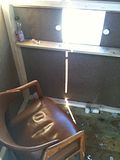 Room with a view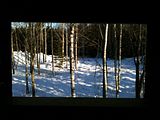 At 8pm after 4 hours of waiting in temperatures around -10 and in near darkness, three young boar finally showed up at my post appearing from the forest in the background. I watched them for 5 minutes until one finally moved away from the others and stood broadside. I shot it in the area marked with a red circle, it ran about 7 meters and dropped dead in the area of the green circle.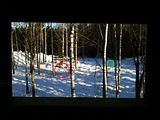 After 2 more hours of waiting another two young boar returned to the post, they sniffed the dead pig and then went about feeding. I waited till one of them presented a clear shot and shot it in exactly the same location as the previous one, it too ran off to the right and dropped down dead right beside the other one which was already lying there!
Here is a pic of the two boar lying on the road in the headlights after dragging them through 3 feet of snow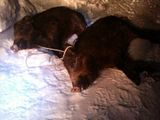 The larger male weighed in at 40kg and the smaller female at 32kg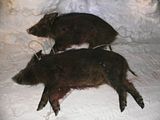 The female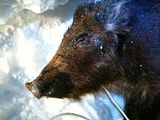 The male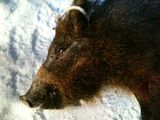 A happy Jonathan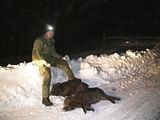 Caliber was 6.5x55 and 155 grain Lapua Mega at a distance of approx 25 meters.
I hope to plan a return trip in the Summer
Jonathan